ViaVai® LegRelaxing Spray
Heparin sodium, Dexphantenol, Camaderm, Menthol and Allantoin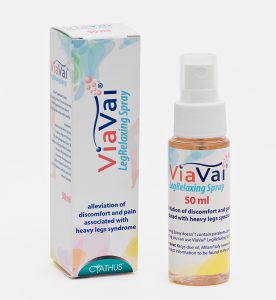 Classification: Cosmetic Product
Therapeutic indications: ViaVai® LegRelaxing Spray is a revitalizing topical spray which decreases the tension of swollen ankles, legs and feet. It is indicated in Heavy legs syndrome and its uncomfortable consequences.
Packsize: Bottles 50 ml
For the availability of the product for licensing and/or any other information please contact us.